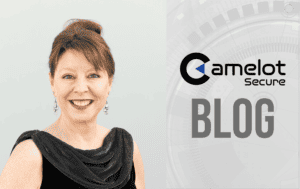 Every March, Women's History Month recognizes and honors the invaluable contributions of women to society, and Dr. Wendy Hayes is a shining example of a person making a difference in cybersecurity equity. Dr. Hayes, the Director of Homeland Security Programs at Camelot and a member of the SIA Women in Security Forum (WISF) Power 100 class of 2023, has dedicated her 20-plus-year career to promoting diversity and innovation in cybersecurity.
Dr. Hayes' career initially focused on cybersecurity training. She authored and managed a successful $826,000 grant from the Department of Labor to expand cybersecurity program opportunities at the College of Southern Maryland. She redesigned a legacy Information Security degree into a well-respected cybersecurity program and garnered the NSA/DHS Center of Academic Excellence for Cyber Defense designation for the college. As a former professor, Dr. Hayes encouraged students from diverse backgrounds to join the Cybersecurity Club and coached them in cyber defense competitions, believing cybersecurity requires a multicultural perspective to meet the demands of cyber resiliency.
She carried these beliefs with her as she developed a Cyber Hunt and Incident Response Team in support of a significant DHS subcontract with the Cybersecurity and Infrastructure Agency (CISA). She wears many hats, and along with managing Camelot's Hunt & Incident Response Teams, she leads Camelot's CMMC initiatives as a Certified Cybersecurity Maturity Model Certification (CMMC) Professional (CCP).
In addition to her impressive credentials and accomplishments, Dr. Hayes is known for emphasizing the operational necessities of balancing usability with capability. She understands that using technology to automate cyber analysis tasks is essential, but emphasizes the need for multidimensional and multicultural perspectives when implementing advanced technologies.
According to Stanford Oliver, the President and CEO of Camelot, "As a female pioneer in cybersecurity, Dr. Hayes is uniquely aware of the gender gap in our industry. Her efforts to promote diversity and inclusion are a fine example for future generations of cyber professionals."
Dr. Wendy Hayes' accomplishments exemplify women's vital contributions to cybersecurity. Her work promoting diversity and innovation, managing cyber threat hunt and incident response teams, and transforming legacy courses into leading degree programs has earned her well-deserved recognition and praise. As we continue celebrating Women's History Month, we can take inspiration from Dr. Hayes' work and strive to promote diversity and inclusion in our industries.