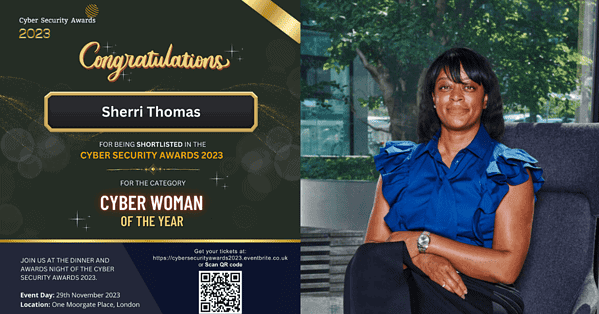 Columbia, MD, November 7, 2023 – Camelot Secure (Camelot), a revolutionary new cybersecurity company, today announced its Chief Revenue Officer, Sherri Thomas, has been shortlisted by the 2023 Cyber Security Award judging panel as a Cyber Woman of the Year for her leadership, innovation, and contributions to cybersecurity technology.
The Cyber Security Awards were established in 2014 to reward the best individuals, teams, and companies within the cybersecurity industry; judges review the industry, looking for the best possible applicants who demonstrate workplace excellence and technology innovation. Thomas stood out among this year's applicants for her strategic, customer-focused engagements across hardware, software, and consulting services. In addition, her ability to lead large matrixed teams in a demanding and dynamic technology market—while balancing tactical objectives with sustained strategic focus—makes Thomas the ideal representative of this year's shortlist.
"I am humbled to be shortlisted for the Cyber Woman of the Year award by the 2023 Cyber Security Award panel," Thomas said. "This recognition is a testament to the dedication and hard work of the entire team at Camelot, as well as our unwavering commitment to innovation and excellence in cybersecurity. I look forward to continuing Camelot's mission to proactively hunt down cyber threats with the industry's most innovative technology."   
A precedent has been set at Camelot for bringing the cybersecurity industry's most talented individuals on board in leadership roles; additional industry accolades include:
CSO.com/CSO Magazine's

Cybersecurity Startups To Watch For In 2023

. Camelot was recognized for its offensive approach to cybersecurity, proactively identifying and mitigating threats rather than relying on traditional reactive measures.

CSO50 Award Winner

. Camelot was honored for the innovative development of its Cybersecurity Maturity Model Certification (CMMC) compliance eDiscovery Tool. 

Cyber Defense Magazine

. Camelot was named a Top InfoSec Innovator in the Most Innovative in Advanced Persistent Threat (APT) Detection and Response category. 
About Camelot Secure
Camelot Secure (Camelot) is a leading cybersecurity company that takes a revolutionary approach to protecting digital assets. Unlike traditional cybersecurity solutions that rely on reactive measures, Camelot operates from a threat perspective, proactively identifying and mitigating threats before they can cause damage. In addition, the company leverages a world-class workforce of the military, intelligence community, and private sector experts to protect our customers' data and systems, their components, and common cyber-attack surfaces. The company uses the most advanced solutions to address cybersecurity challenges, including proactive, persistent automated Advanced Persistent Threat (APT) Hunt tools and offensive attack surface monitoring technologies. Through these services, Camelot enables its customers to be more proactive and predictive in their approach to cybersecurity, delivering exceptional value and empowering businesses to protect their digital assets like never before.
Learn more at camelotsecure.com.